09/09/2019
| Kick-Off & Workshop
Successful kick-off meeting of the research projects of the 1st transnational call, Ghent (September 9-10, 2019)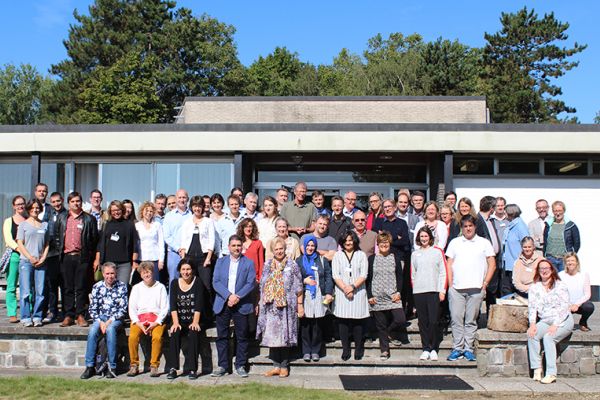 The ERA-Net SusCrop welcomed about 65 participants to the projects' kick-off meeting on the 9th of September 2019 in VAC, Ghent (Belgium). The participants were project leaders and involved researchers, SusCrop consortium members, funders and other stakeholders that came together to learn about the selected projects, network and discuss the state of the art in the field of sustainable crop production.
To inspire the researchers, a short video speech was given in which Louise O. Fresco (WUR) explained the current challenges and collaboration in crop science. Following this, Prof Peter Gregory (Consulting Ltd) gave a keynote speech entitled "The sustainability conundrum – through a glass darkly". After the speeches, the coordinator/partners of the 13 selected projects (AC/DC-weeds, BARISTA, DIFFUGAT, LegumeGap, NETFIB, potatoMETAbiome, ProFaba, PROSTIG, ROOT, RYE-SUS, SOLNUE, SUSCAP and WheatSustain) presented their project ambitions and transnational structure, and gave an overview of the projects' stakeholders and end-users.
On September 10, the kick-off meeting carried on at the Plant site of Flanders Research Institute for Agriculture, Fisheries and Food (ILVO) in Melle. A session on the follow-up and monitoring of the research projects and a communication workshop were final parts of the programme. As the kick-off meeting was held back to back with 2 workshops, a 1st workshop on "Sustainability and Resilience Assessment Methods", organised by ILVO, took place immediately after. This workshop aimed at informing the project researchers and other interested stakeholders on the potential use of certain quantitative and qualitative measuring systems (e.g. LCA). The 2nd workshop on "Data collection and harmonisation", organised by LUKE, was held on September 11 in VAC, Ghent. The latter one had the aim to increase the harmonization of methods of data collection on sustainable crop production to build models and to distil indices of sustainability and resilience.