SusCrop Consortium Meeting, Berlin (March 26-27, 2019)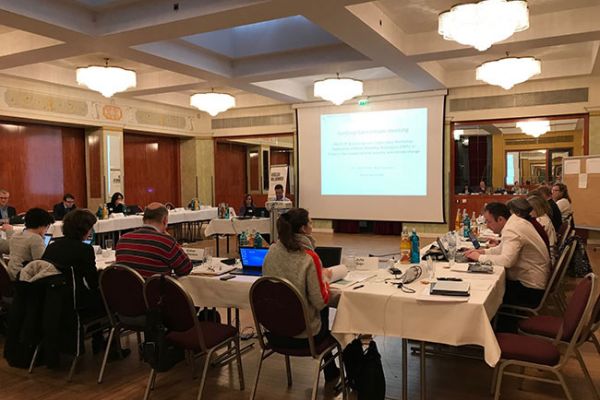 On March 26-27, the SusCrop network held its first consortium meeting of 2019 in Berlin. Important issues on the agenda were the intended procedures for monitoring and valorisation of the first transnational co-funded research projects (definition of indicators, reporting templates, etc.).
Researchers of all 13 selected projects will be informed about this during the upcoming kick-off meeting of the co-funded research projects in September 2019 in Ghent-Merelbeke (Belgium). The objective of this kick-off meeting is to briefly inform both the SusCrop consortium partners as well as external stakeholders on the ongoing co-funded projects, and to create as much as possible interaction and networking opportunities between the participants. Back-to-back with the kick-off meeting of the co-funded research projects, a workshop on "Sustainability and Resilience Assessment Methods" and on "Data Collection and Harmonization" will be organised by representatives of the SusCrop partners ILVO (Belgium) and LUKE (Finland), respectively. A detailed draft program of the entire event was shared and discussed with all SusCrop partners. Within the context of strategic transnational agricultural research an elaborative desk study was performed by representatives of the SusCrop partners INIA (Spain) and AGES (Austria). The study resulted in an initial mapping of existing initiatives, a research gap analysis and a prioritization of research in the field of sustainable crop production. These new findings will sustain and assist in the development of new topics to be addressed by subsequent calls of the ERA-NET SusCrop in the future.