ERA-Net SusCrop project status and outreach seminar on 'sustainable crop and agriculture production for the future' – February 7-8, 2023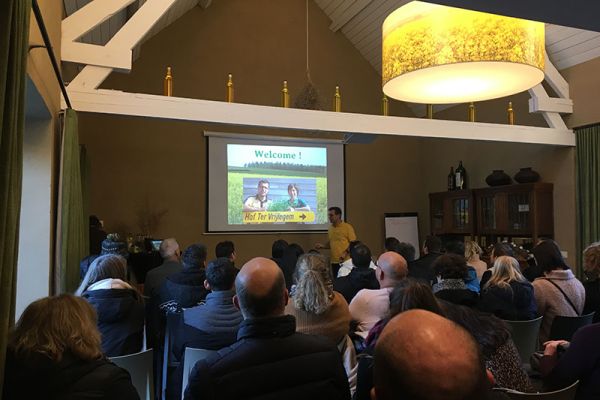 Around 70 people attended the seminar in Gent from different stakeholder groups. During this two-day event, the researchers of the eight 2nd Call SusCrop projects and the six 3rd Call FACCE SURPLUS projects presented their progress and key achievements.
Most projects invited direct and external project stakeholders to discuss their results at this occasion to identify valuable benefits and valorization aspects in the long-term. Amongst the stakeholders there were representatives of industry, farmers, academia and funding organisations.
The SusCrop projects' mid-term meeting was organized back to back with an outreach seminar on 'sustainable crop and agricultural production for the future'. A central aspect of this seminar was the discussion about the diverse types and needs of farmers, who will benefit from ongoing research on crop improvement. There are 12 types of farmers reported by the JRC (the European Commission Joint Research Centre) and DG AGRI (the Directorate-General for Agriculture and Rural Development). And the fact that only 5,6 % of the European farmers are younger than 35 years, the enormous challenges that farmers face, and the disruptive innovations in agriculture and food, suggests that 'the farmer of the future' will diversify and change significantly.
The outreach seminar 'sustainable crop and agricultural production for the future – role of the 12 farmers of the future', aimed to discuss with the stakeholders of the ERA-Net SusCrop and FACCE SURPLUS projects and beyond, the potential of disruptive technology in the activities of 'the 12 farmers of the future'.
Beyond the scientific parts of the meeting, the seminar participants also had the opportunity to visit an innovative farm outside of Gent (highlighting the use of renewable energy, bio-based heating facility, mixed cropping systems and its own organic rapeseed oil production site for the regional/local retail markets).