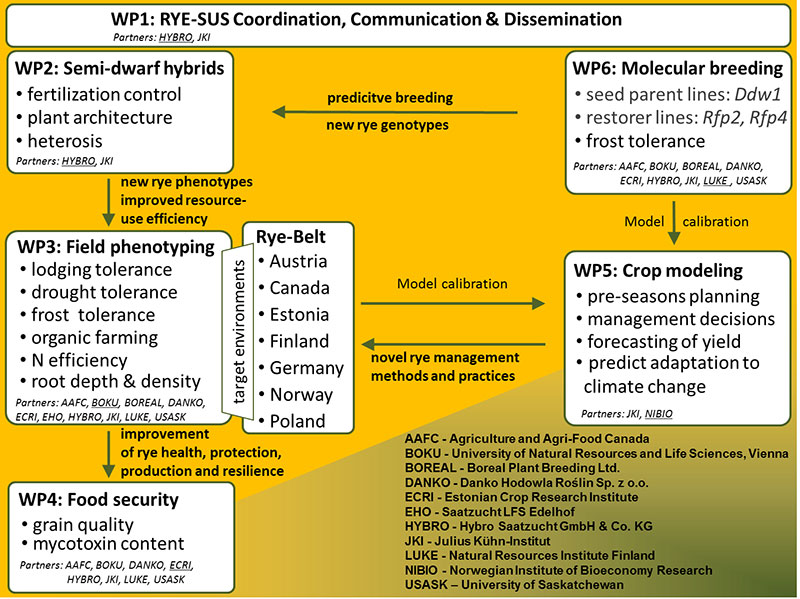 Summary
European cereal production experiences an ongoing intensification and specialisation on wheat and barley at the expense of minor cereals including einkorn, emmer, oat, rye and spelt. This specialisation leads to continuous loss in agricultural biodiversity and marginalisation of traditional land management systems. A diversification of cropping systems by minor cereals offer benefits with respect to agronomic management, grain processing, nutritional quality, health promotion and numerous ecosystem services. Enhanced plant breeding efforts are of strategic importance to improve the competitiveness of minor cereals in European agriculture. Rye is the only cross-pollinated small-grain cereal, which results in a unique complexity concerning the genetic improvement of rye and underlines the need for rye-specific research concepts.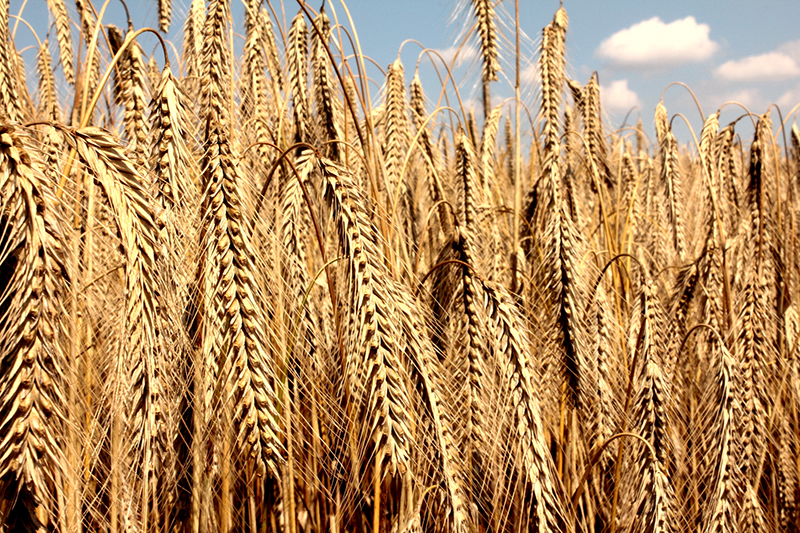 Plant architectural traits are important breeding targets to improve crops yield potential and food security. The overall goal of RYE-SUS is to develop, test and model gibberellin-sensitive semi-dwarf rye genotypes with optimized harvest index, improved lodging resistance, high yield potential and drought tolerance as well as minimised risk of ergot infestation for a sustainable intensification also in marginal production environments. Currently, rye mainly contributes to crop species diversity in Europe, though rye is gaining increasing importance in Canada. Rye is a traditional food grain and a valuable source of energy and protein for livestock. Like other minor cereals, rye is mainly grown in marginal environments where climate and soil are unfavourable for wheat production. To improve rye competitiveness in European agriculture, RYE-SUS aims to
make use of hybrid breeding as a cutting edge technology of crop improvement and genome-based precision breeding to increase target-specific selection efficiency and accelerate breeding processes in rye,
develop new genotypes leading to improved lodging and drought tolerance,
proof the practical potential of genotypes with a novel plant architecture in target environments, which challenge rye cultivation by potentially growth-limiting factors such as drought, frost, or nutrient deficiencies,
minimize the risk of extremely toxic ergot alkaloids in the harvest,
exploit natural genetic diversity in adaptive traits and develop new molecular technologies which support niche range expansion of highly productive rye hybrids in cold climate ecosystems, and
develop and exploit a crop model to simulate the growth and development of rye under potentially growth-limiting factors as a tool to support novel integrated pest and crop management methods and practices.
Research conducted in RYE-SUS complements genome-based strategies of genomic selection for harnessing the full yield potential of rye without the need of comparable high investments. While the technology of hybrid breeding enables to develop and evaluate prototypes of new rye genotypes within RYE-SUS, the knowledge gained is also applicable for the genetic improvement of open pollinating cultivars with simpler and less expensive breeding procedures and shorter development cycles. Active exchange of ideas, concepts, knowledge and technology between participants of RYE-SUS will improve coherence on marker assisted selection in European and Canadian rye breeding programs and generate synergies for more sustainable and resilient crop production through plant breeding. The collaborative research and activities within this transnational consortium develop and deliver unique opportunities for the European Research Area to increase and secure cereal production on finite arable land without increasing water and fertilizer use.
Partners
Dr Bernd Hackauf
Julius Kühn-Institut, Institute for Breeding Research on Agricultural Crops, GERMANY
Prof Heinrich Grausgruber
University of Natural Resources and Life Sciences, Vienna Plant Breeding, AUSTRIA
Dr R. James Larsen
Agriculture and Agri-Food Canada, Lethbridge Research and Development Centre, CANADA
Dr Ilmar Tamm
Estonian Crop Research Institute, Jõgeva plant breeding, ESTONIA
Dr Teija Tenhola-Roininen
Natural Resources Institute Finland, Production systems, FINLAND
Dr Karol Marciniak
Danko Hodowla Roślin Sp. z o.o. Zakład Hodowli Roślin Choryń, POLAND
Mrs Elisabeth Zechner
Saatzucht LFS Edelhof, Plant breeding, AUSTRIA
Dr Anne Kari Bergjord Olsen
Norwegian Institute of Bioeconomy, Research Department of Grain and Forage Seed Agronomy, NORWAY
Dr Merja Veteläinen
Boreal Plant Breeding Ltd, FINLAND
Prof Ravindra N. Chibbar
University of Saskatchewan, Department of Plant Science, CANADA