C4FUTURE
Fortifying and Enhancing Resilience in C4 Crops for Current and Future Climate Change Adversities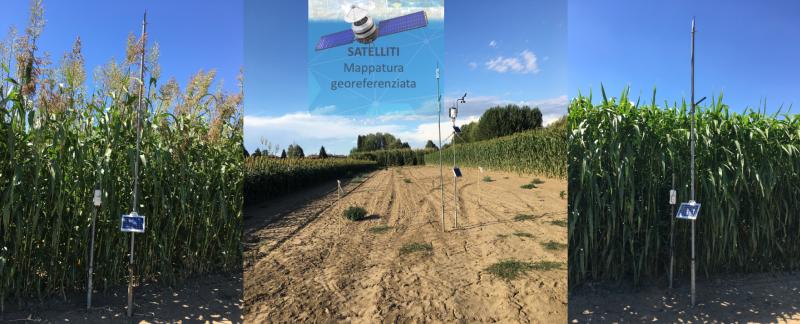 Summary
Global climate change, towards more elevated temperature, greater aridity and more frequent erratic climate events, becomes a major threat to agricultural sustainability, food security and social stability. This does not only concern Mediterranean regions but also central and northern Europe. Hence, enhancing crop resilience to climate change is a major challenge facing the global agricultural community.
C4FUTURE is one consortium with partners from Belgium, Denmark, France, Germany, Italy and Turkey. The focus on two C4 cereal crops (maize and sorghum) is dictated by current climate change scenarios and the necessity to sustainably improve agricultural production, as well as nutritional and health-promoting quality of crop products.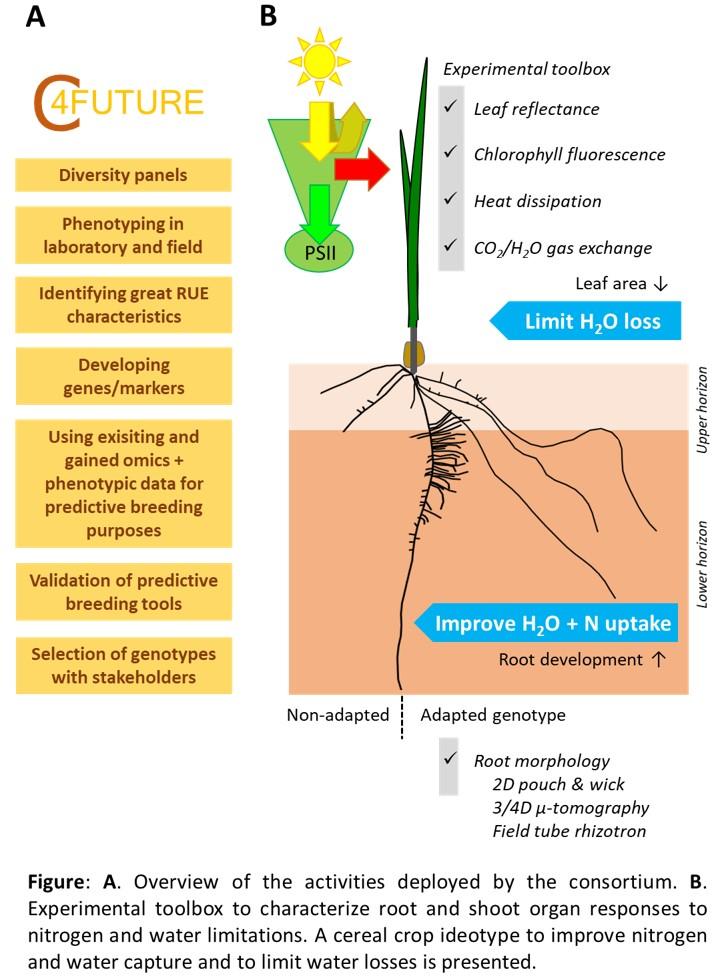 The climate change scenarios predict a more dry, hot and carbon dioxide-laden Earth, in which C4 plants will be favored, meaning that humans will rely heavily on C4 crops like maize and sorghum. These crops are seeing strong resurgence in Europe for human food and animal feed production purposes. Therefore, C4FUTURE is well poised to invest technological assets to enhance climate change resilience in these crops, in preparation for the predicted climate change threats.
C4FUTURE exploits the natural variation in diversity panels to enhance adaptation to nitrogen and water stresses, being already major constrains on crop productivity and expected to accentuate due to climate change. A key to this project is in situ phenotyping of germplasm collections under various stress combinations across four Mediterranean sites, representing a climatic gradient. Advanced root and shoot phenotyping, integrative phenomic data collection, systems biology and genome mapping approaches will be employed to identify candidate genes underlying the response of these two crops to nitrogen deficiency and drought.
Candidate genes will be validated via transcriptomic, metabolomic and morpho-physiological techniques. Predictive analytics including machine learning and genomic prediction and selection models will be implemented to identify superior genotypes. Finally, decision-making models will be refined and used to design maize and sorghum ideotypes for current and future climatic profiles, and prototype genotypes will be developed and evaluated in the field.
The results will provide comprehensive insights into C4 cereals adaptation to climate change and facilitate crop improvement and management strategies, thereby augmenting crop sustainability and food security.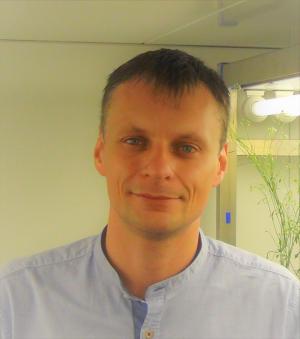 Coordinator
Prof. Christian Hermans
Université libre de Bruxelles (ULB), BELGIUM
Email: chermans@ulb.ac.be
Partners
Dr. Stefan Gerth
Fraunhofer Institute for Integrated Circuits IIS (FhG-IIS), GERMANY
Prof. Faheem Shehzad Baloch
Sivas Science and Technology University (SBTU), TURKEY
Prof. Luc Janss
Aarhus Universitet (AU), DENMARK
Dr. Ephrem Habyarimana
Consiglio per la ricerca in agricoltura e l'analisi dell'economia agraria (CREA), ITALY
Dr. Alain Charcosset
Institut National de Recherche pour l'Agriculture, l'Alimentation et l'Environnement (INRAE), FRANCE